Interior Painting In the Quad Cities!
---
This lovely Kitchen in Bettendorf IA painted by Shambaugh painting
---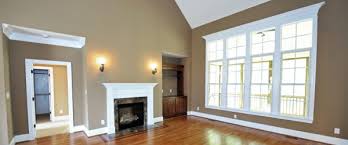 great room in Eldridge IA painted by Shambaugh Painting
Quad Cities Interior Painting

 projects done right by 

Shambaugh Painting
Residential Interiors
The possibilities are only limited to your Imagination!
A coat of Fresh Paint can completely transform your home in most dramatic way and in a very short time. Check out our painting services listed below
Interior painting is our specialty. We have over 25+ years of experience in providing customers with quality, professional interior painting services in the Quad Cities, here's just a small sample of what we can do:                                                 

Wall painting the most popular service we provide. The possibilities are endless!
Ceiling painting, often refered to as the fifth wall usually painted in conjunction with the walls, these days people are choosing colors for their ceiling instead of the typical flat white.
Woodwork painting or staining either is available to paint or stain doors, baseboards, crown molding, and all other types of trim
Convert we can change your woodwork from stain to paint (a popular option now is going from stained woodwork to the more modern white paint color)
Cabinets including kitchens, bathrooms, laundry rooms, and other miscellaneous types of cabinets
Entertainment systems if you have a custom-built fixture for your entertainment area, we can liven it up with stain or paint
Mantels and other shelves including fireplace mantels and any storage areas in the interior of your home
Touch-up painting for a low-cost alternative, we offer touch-up painting services ,this option only works if you have the

previously used

paint.
---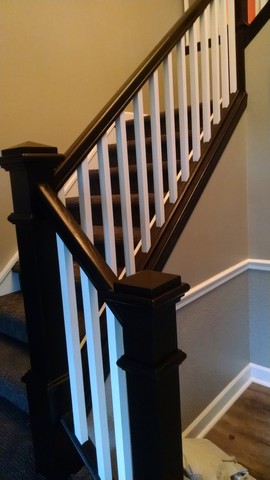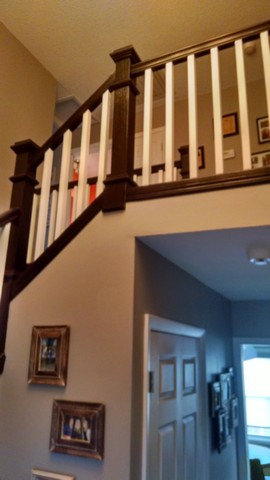 ---
The two pictures above are from a private residence on Field Sikes Drive in Bettendorf IA, we started with most of the lower section of the house and the 2 story entryway but the homeowners did not like the blond oak staircase that dated their new paint scheme so we prepared the oak and added a finish of Java Gell stain by General Finishes and sealed it with their top coat sealer for a dramatic look that really changed how the whole house feels when you walk in the door.
If your walls and woodwork don't fit together anymore and you would like to price on changing your tired dated blond oak give Rodney Shambaugh a call today for a FREE Quote at 309-269-2478
---
Kitchens like the one at the top of the page and the one directly to the left come with their own set of challenges when it comes to interior painting  and be a daunting task for any homeowner, if your in need of a kitchen painting project done right then all you have to do is give Rodney a call at  309-269-2478 for a FREE no obligation quote Today.
---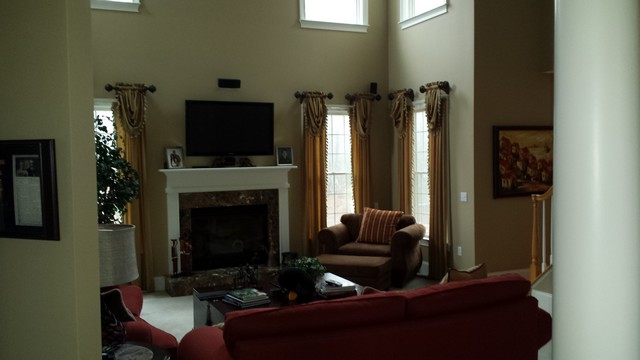 Two story great room in this fantastic bettendorf home painted by Rodney Shambaugh
---
Great rooms with tall ceilings are something homeowners should never tackle and should be left to the pro's who have the correct equipment and can do the job safely, I have painted countless 2 storied great rooms all over the Quad Cities and look forward to painting yours if you give me a call today at 309-269-2478. The quote is FREE and as alway no obligation.